Chocolate Beverages to Savor and Sip
Delicious Chocolate Drinks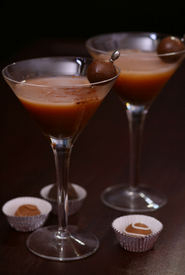 This is where you will find the best recipes for chocolate beverages to savor and sip. Some drinks are best served hot, while others are better chilled.
If you love chocolate, you need to give these fabulous chocolate drinks a try! You'll find everything from hot cocoa to chocolate martinis.
Chocolate Martini
I have to admit that even though I am the ultimate chocolate lover, chocolate martinis have never really appealed to me. Once I tasted this recipe, I was hooked. These martinis are spectacular! I love sipping on one of these drinks as an after dinner drink.
Fabulous Chocolate Eggnog
Enjoy this rich cream eggnog flavored with chocolate. A unique beverage for holidays.
Delicious Mexican Hot Chocolate
What can be more comforting than a mug of hot chocolate on a cool evening? This recipe creates delicious drinks that you'll want to enjoy again and again.
Frozen Hot Chocolate
Enjoy this fabulous chocolate beverage. This cold drink is especially refreshing on a hot summer day, but I love this decadent drink any time of the year!
Hot Chocolate Mix
This hot chocolate mix recipe makes it easy to have rich, flavorful hot chocolate. Store the mix in a tupperware container and enjoy hot cocoa whenever you want. Pour into attractive containers to make great gifts for friends and co-workers.
Peanut Butter Hot Chocolate
This simple recipe is for people who love the combination of peanut butter and chocolate.
Tiramisu Martini
If you love the classic Italian dessert, Tiramisu; you'll also love this martini. These special martinis are fabulous!
White Chocolate Martini
Enjoy an exquisite white chocolate martini. This is lusciously smooth beverage! Indulge yourself with this yummy drink.
Chocolate Milkshake
A favorite treat that you can easily make yourself at home. Treat yourself with an all-time favorite ice cream dessert.
Still have a question?
Use Google to search this site or Contact us.

Back to the Top: Chocolate Beverages to Savor and Sip – Chocolate Drinks
Satisfy Your Chocolate Addiction
Visit these Recommended Sites
Ready for a California Wine Tasting Tour? Learn all about touring the California Wine Country at Cheers2Wine.com Save money by printing free wine tasting coupons for selected California wineries.

If you live in San Diego or will be visiting soon, learn all San Diego attractions, San Diego beaches, San Diego resorts, and romantic things to do in San Diego. San Diego tourism thrives because of the fabulous San Diego weather and all the fun things to do. Get insider tips at SanDiego-Romantics.com