Chocolate Cupcakes are Making a Comeback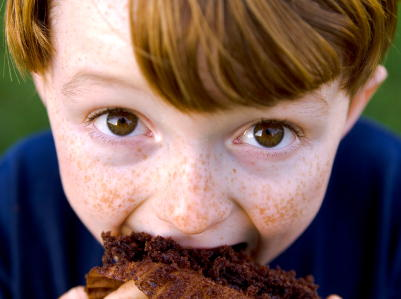 Chocolate cupcakes are making a comeback. Businesses are specializing in cupcakes. Cupcakes are replacing wedding cakes at weddings.
These elegant cupcakes aren't the same ones you ate as a child. Find out why cupcakes are becoming so popular with these fun cupcake ideas. These recipes make great cupcakes!
Cherry Cheesecake Cupcakes
Cherry Cheesecake Cupcakes are easy to make and make an elegant cupcake. Drizzle your favorite chocolate over the cupcakes to satisfy your chocolate cravings.

Chocolate Chip Muffins
This recipe makes one dozen tasty chocolate chip muffins. If they don't disappear quickly, they are easy to freeze for eating later.

Chocolate Cupcakes
This basic cupcake recipe is a family favorite. Make a batch or two and freeze to serve later. My girls loved these cupcakes unfrosted.
Double Chocolate Muffins
What can beat homemade chocolate muffins eaten warm from the oven? This recipe makes moist gooey muffins.

Red Velvet Cupcakes with Vanilla Cream Cheese Frosting
If you like red velvet cake, you will love these delightful cupcakes and their rich vanilla cream cheese frosting.

Tiramisu Cupcakes
These cupcakes are a delight for people who love the flavors of Tiramisu. The combination of chocolate and coffee is favored by many.

Touch of Heaven Cupcakes
These cupcakes taste heavenly! Every time I bring these cupcakes somewhere, people ask me for the recipe. Chocolate cakes with a dab of cream cheese results in cupcakes that has the adults begging for more.
Do you have a question about chocolate? Do your search here:

Back to the Top: Chocolate Cupcakes are Making a Comeback! Fun Cupcake Ideas
Satisfy Your Chocolate Addiction
Visit these Recommended Sites
Ready for a California Wine Tasting Tour? Learn all about touring the California Wine Country at Cheers2Wine.com Save money by printing free wine tasting coupons for selected California wineries.

If you live in San Diego or will be visiting soon, learn all San Diego attractions, San Diego beaches, San Diego resorts, and romantic things to do in San Diego. San Diego tourism thrives because of the fabulous San Diego weather and all the fun things to do. Get insider tips at SanDiego-Romantics.com