Favorite Chocolate Fondue Recipes
You have found the all-time favorite chocolate fondue recipes. These recipes for chocolate fondue are delicious. I love how the aroma of the warm chocolate fills the air.
Fondues are the perfect party hit and a fun way to offer your friends or family a scrumptious chocolate dessert. You can also reduce the recipes to prepare a smaller fondue for an intimate romantic evening for two.
The best place I've found to buy fondue pots is FonduePots.com They have the largest selection I've ever seen. The prices start at just $10.
Arrange an assortment of items to dip in the chocolate fondue on trays around your fondue pot. Provide wooden skewers or fondue forks. Encourage your guests to dip, swirl, and enjoy!
Suggested Fondue Dippers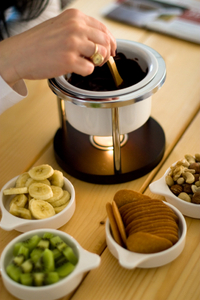 The possibilities are endless:
Fruit – strawberries, pineapple, apple slices, bananas, cherries, grapes, raspberries, orange slices, kiwi slices
Sweets – chunks of angel food cake, pieces of pound cake, small brownies, cookies, marshmallows
Salty – pretzels, shelled nuts, potato chips
Fondues are ideal for entertaining. Before you plan your own gathering, take a look at these fondue party ideas.
Favorite Recipes for Chocolate Fondue
Caramel Chocolate Fondue
Caramel and chocolate team up in this easy-to-make fondue for a luscious dessert fondue. Yummy!
Chocolate Marshmallow Fondue
If you love the combination of chocolate and marshmallows, this is the recipe for you! A delicious fondue!
Chocolate Raspberry Fondue
This fondue is made from Nestle chocolate, whipping cream, corn syrup, and raspberry liqueur. Yummy!
Chocolate Rum Fondue
A delightful chocolate fondue recipe that is divine! An enticing dessert to share with your friends or that special person in your life.
Classic Chocolate Fondue
Make this classic fondue all your own. Use your favorite type of chocolate and whichever liqueur you are in the mood for.
Nutty Chocolate Fondue
If you love the combination of chocolate, peanut butter, and creme de cacao; you will love this unique fondue.
Toblerone Fondue – An Easy Chocolate Fondue
Not only does this fondue taste great, it is also quick and easy to make. Enjoy this delicious Swiss chocolate in a melted fondue.
White Chocolate Fondue
The perfect treat for people who love white chocolate! This fondue has just 3 ingredients and is so simple to make.
Do you have a question about chocolate? Do your search here:

Back to the Top: Favorite Chocolate Fondue Recipes – Recipes for Chocolate Fondue
Satisfy Your Chocolate Addiction
Visit these Recommended Sites
Ready for a California Wine Tasting Tour? Learn all about touring the California Wine Country at Cheers2Wine.com Save money by printing free wine tasting coupons for selected California wineries.

If you live in San Diego or will be visiting soon, learn all San Diego attractions, San Diego beaches, San Diego resorts, and romantic things to do in San Diego. San Diego tourism thrives because of the fabulous San Diego weather and all the fun things to do. Get insider tips at SanDiego-Romantics.com