Favorite Chocolate Candy Recipes
These favorite chocolate candy recipes will create special chocolate treats. Surprise someone with homemade chocolate candies prepared specially by you. Recipes to treasure!
These easy to make candy recipes will satisfy your chocolate cravings. They also make great gifts to let someone else know you are thinking of him or her.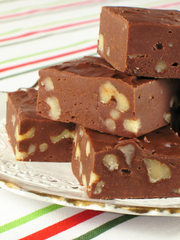 Chocolate Peanut Butter Fudge Recipe
You'll love this creamy combination of chocolate and peanut butter. This is so simple and easy to make!
Chocolate Truffles
These chocolate truffles have an intense chocolate flavor that will delight chocolate lovers. Make with a high quality bittersweet chocolate for best results.
Microwave Rocky Road
This candy is quickly and easily prepared in the microwave. A great treat with a minimum of fuss. I love the combination of chocolate, marshmallows, and peanuts! Rocky road is one of the most popular chocolate candies.
Mom's Chocolate Fudge
This fudge is the best! My mother was making this fudge before I was born. It was a family tradition for her to make this fudge every Christmas. My daughter continues the custom now that my mother is gone. Recipes makes 5 pounds of fudge. It makes a great gift for the holidays.
White Chocolate Fudge
Looking for an alternative to traditional fudge? This white chocolate fudge recipe is a splendid choice.
Do you have a question about chocolate? Do your search here:

Back to the Top: Favorite Chocolate Candy Recipes
Satisfy Your Chocolate Addiction
Visit these Recommended Sites
Ready for a California Wine Tasting Tour? Learn all about touring the California Wine Country at Cheers2Wine.com Save money by printing free wine tasting coupons for selected California wineries.

If you live in San Diego or will be visiting soon, learn all San Diego attractions, San Diego beaches, San Diego resorts, and romantic things to do in San Diego. San Diego tourism thrives because of the fabulous San Diego weather and all the fun things to do. Get insider tips at SanDiego-Romantics.com