Fabulous Chocolate Pies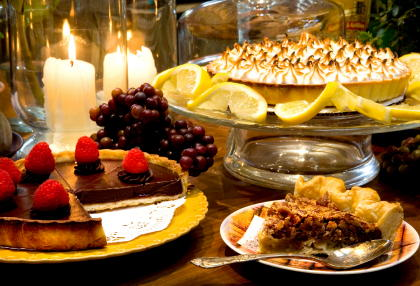 You won't be able to resist these fabulous chocolate pies. Create delicious chocolate desserts with the recipes you find here.
When making a pie, feel free to alter the pie by making it with your own favorite crust recipe.
Fabulous Chocolate Chess Pie
Chocolate chess pie is a Southern specialty. How does a chocolate pie loaded with pecans sound? Even without the pecans, this is a wonderful pie.

Chocolate Cream Pie
This is a rich, delectable chocolate pie. It's been a family favorite since before I was born. The recipe will make 2 pies, because one pie is not enough! In fact, I usually make 4 pies at a time for family get-togethers.
Chocolate Layered Pie
I suppose this is not technically a pie. It's baked in a 9×13 inch pan. Delicious and perfect for potlucks.

Chocolate Mousse Pie
So easy to make and so delicious! This chocolate mousse pie recipe has just 5 ingredients. Quick and simple to prepare.

Chocolate Pecan Pie
If you love chocolate and pecans, this is a rich prize winning pie. Use your favorite pie crust recipe, this delicious filling, and top with vanilla ice cream or whipped cream.

Frozen Chocolate Pie
Enjoy this cold, chocolate dessert for a special summer treat. This easy to make pie tastes great!

Hershey Bar Pie
This pie is made using Hershey milk chocolate bars. It's a cool, creamy pie topped with cool whip.
Do you have a question about chocolate? Do your search here:

Back to the Top: Fabulous Chocolate Pies
Satisfy Your Chocolate Addiction
Visit these Recommended Sites
Ready for a California Wine Tasting Tour? Learn all about touring the California Wine Country at Cheers2Wine.com Save money by printing free wine tasting coupons for selected California wineries.

If you live in San Diego or will be visiting soon, learn all San Diego attractions, San Diego beaches, San Diego resorts, and romantic things to do in San Diego. San Diego tourism thrives because of the fabulous San Diego weather and all the fun things to do. Get insider tips at SanDiego-Romantics.com